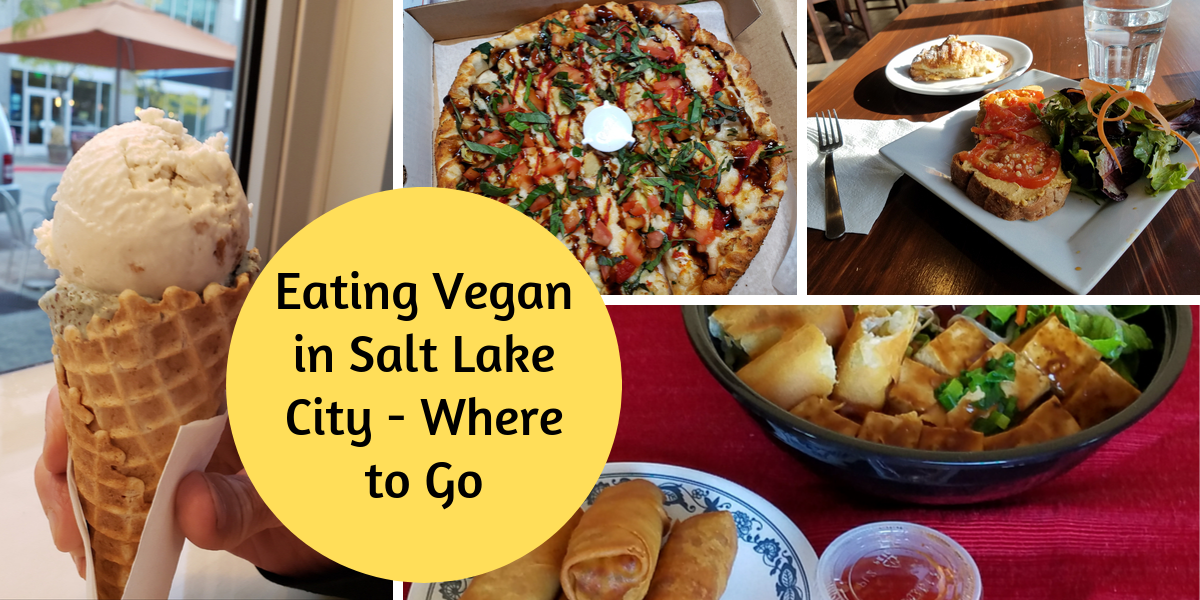 Finding a vegan restaurant in Salt Lake City is easy; the difficult part is deciding which one you will choose. Dining out as a vegan hasn't always been so easy in the past. While traveling with my extended family to a reunion in Iowa, I was delighted to see a menu offering a "veggie burger".  My delight quickly turned to disappointment when discovering that their veggie burger was just a beef patty with a single leaf of iceberg lettuce on top. It wasn't unusual for a waitress to suggest the "Chef's Salad" as a suitable meal, which included egg, ham, cheese, and topped with a creamy dressing. After requesting eliminating them, it left you with iceberg lettuce with a slice of tomato. Many people simply didn't understand what vegans ate. Traveling for business or on vacation, meant packing your own food.
Times have certainly changed. Eating a vegan diet, whether it is for medical reasons, food allergies, environmental concerns, or compassion for animals, offers a wide variety of food to eat. Whether you reside in Salt Lake City, or are visiting for business or vacation, the first thing to do is pick up a free copy of the Utah Vegan Guide, which is updated annually by UARC. Typically these booklets can be found at local restaurants.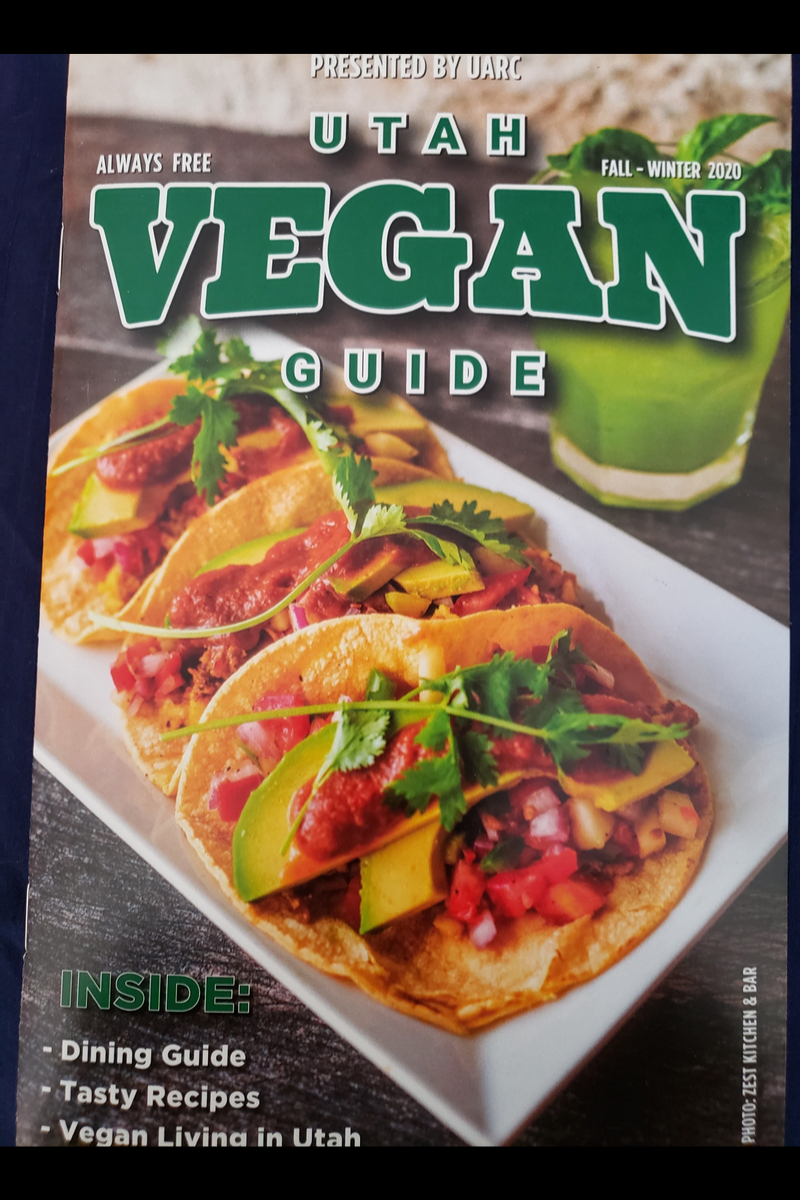 This year, the guide has expanded beyond Salt Lake City, covering restaurants from as far north as Logan to as far south as Kanab and St. George, and includes many cities in between. They list restaurants which are 100% vegan, as well as others who offer vegan options on their regular menus.
The following are just a few of my favorites in no particular order. To be fair, for those that are not mentioned below, there are still more vegan restaurants that I haven't eaten at yet.
Seasons Plant Based Bistro located at 1370 S State Street in Salt Lake City. It offers French and Italian cuisine, with a selection of local and imported beer and wine. On our first visit, the waitress inquired about any food allergies, and pointed out appropriate options from their menu. During our second visit, a few months later, the same waitress not only recognized us, but remembered my wife's mushroom allergy. The food and service is wonderful.
Vegan Bowl located at 8672 S Redwood Road in West Jordan. It offers vegan versions of all your Vietnamese favorites including, ramen stir-fry, egg rolls, banh mi, noodle salads, rice bowls, pho, flan, and drinks, including shakes. Service is very quick.
Lil' Lotus located at 2223 South Highland Drive in Salt Lake City. It offers vegan breakfast burritos, Navajo tacos, mac n' cheese, hot dogs, and sliders. The food is very flavorful.
The Pie Pizzeria has several locations including Salt Lake City, South Salt Lake, Midvale, South Jordan and Ogden. This traditional pizzeria often makes it on the Best Pizza lists. They offer Follow Your Heart vegan cheese and other vegan options on their regular menu, in addition to a different specialty pizza each month. Their menu also includes Gluten free options.
Monkey Wrench is located at 53 E Gallivan Avenue in Salt Lake City. This vegan ice cream shop makes their ice cream in small batches and offers 16 flavors. They serve it in a cup, a cone, with a brownie, or as sundae or a banana split. Take a pint home with you. They also sell coffee, hot chocolate and vegan pastries.
Boltcutter  is located at 57 Gallivan Avenue, Salt Lake City. They offer vegan versions of Mexican classics such as street tacos, burritos, and quesadillas, as well as craft libations. Be sure to try their Buffalo cauliflower and nachos.
Buds is located at 509 E 300 South in Salt Lake City. They offer vegan sub sandwiches and salads, including the Pesto, Buffalo, Cheese Steak, Barbacoa. They have a walk-up window to order and pick up your food.  There is no indoor seating, although there is an outdoor patio with picnic bench seating, when the weather is nice. They are great sandwiches to take on the go, and be sure to try their zucchini chocolate chip cookies.
Passion Flour is located at 165 E 900 South in Salt Lake City. They offer authentic French pastries, tartines, crepes, sandwiches and coffee. They also take orders for wedding and specialty cakes.
Big O Doughnuts  is located at 248 W 900 South in Salt Lake City. They offer vegan gourmet doughnuts with flavors such as spiced apple cider, blueberry lavender, orange cardamom, matcha, rosemary brown sugar, cookies and cream, pumpkin pie, churro and traditional favorites such as Boston cream filled, lemon curd as well as apple fritters. They open at 7 am on weekdays, and 9 am on the weekends. Be sure to go early as they often sell out before their 3 pm closing time.
Vertical Diner  is located at 234 W 900 South in Salt Lake City.  Breakfast is served when you want it.  Whether you like it sweet or savory, they have menu items that are sure to please.  They offer comfort food with a selection of burgers, sandwiches, and specialty plates.  They provide catering on-site in their Jade room for up to 40 people or off-site for up to 500.
If you have a personal favorite that I didn't mention, be sure to share it with me in the comments section below.
Upcoming Vegan events:
Vegan Mac Down SLC  Be sure to get your tickets for the 3rd annual Mac Down on Saturday, October 19th at Impact Hub on 150 State Street, #1, in Salt Lake City.  Nine local cooks have prepared their best vegan mac n' cheese recipes to compete for your vote.  Enjoy music, games, prize giveaways and local vendors.

A Very Vegan Thanksgiving  will be held on Saturday, November 9th at Wasatch Elementary, 30 "R" Street in Salt Lake City. This is an annual fundraiser for Ching Farm Rescue & Sanctuary. Proceeds from this event helps to purchase animal feed and hay for the winter months. Doors will open at 5 pm, dinner will be served at 6 pm.  Silent Auction items will be available to bid on until 7:45 pm.