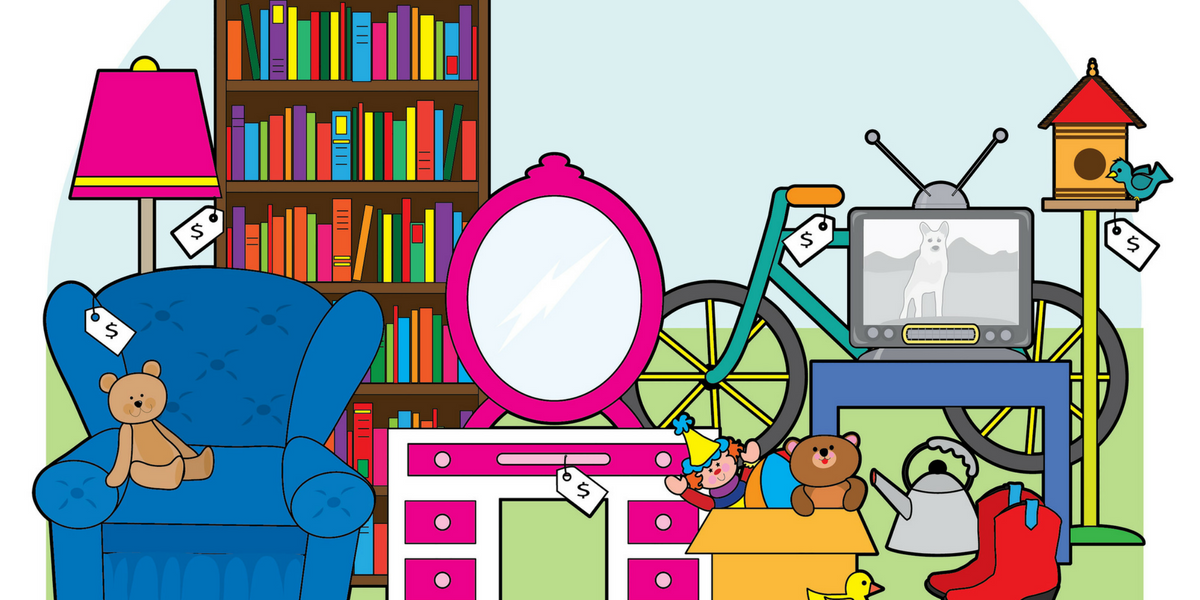 Holding a garage sale before placing your home on the market is a great way to declutter.  Whether moving long distance, downsizing, or even upsizing, it is a great time to re-evaluate both what you want to bring with you to your new home, and what items is it time to let go of.  Whether you are moving, or not, a garage sale is an excellent way to earn some money from what you no longer need nor want.
Timing 
If you have flexibility in scheduling when to hold a garage sale, the most popular seasons for garage sales are Spring and Summer. Since many people are paid on the 1st and 15th of the month, it is also beneficial if you can schedule your garage sale as close to those dates as possible.  Saturday mornings is the most popular time, but Friday afternoons can also be a good time for catching buyers who prefer getting an early start to shopping for deals.
Grouping Garage Sales
Bargain hunters prefer larger garage sales than stopping for a small one, especially if it is held in an out of the way location.  Consider asking neighbors, friends or family to combine garage sales to make it more attractive to buyers.
Pricing
Most items sold at garage sales are priced at 10-20% of the retail price, based on condition.  If you are struggling to come up with a price, check similar items at a thrift store and price your item lower.  Use individual price stickers for each item, rather than have a sign for pricing multiple items.  It may be difficult later to determine where the item was picked up, or if it had been set down in a different area by another customer.  If you are combing items for a group garage sale, be sure to put the initials on the price tag to track the sales for each individual.  Keep a pad nearby, to document the sales for each seller.
If you are selling large items, such as furniture or appliances, and a person wants you to hold the item for them while they retrieve more money, or to get a vehicle to transport it, be sure to request a non-refundable deposit of $20.  Place a sold sign on the item, and remove it to an out of the way location to prevent reselling the item to a new buyer.
If a buyer offers a lower price than what you are willing to accept for an item, you may want to take their name and contact information to call back, if the item does not sell after the garage sale is over, and you are willing to accept their price.
Advertising
Take advantage of free ads on Craigslist, local on-line sites and on social media sites.  Be sure to mention big ticket items, or general categories, such as dressers, sporting goods, tools, or baby items.  Be sure to check with your local ordinances about posting signs, so that they are in compliance of local laws and regulations. .  Make the signs easy to read, with large, dark letters and as few words as necessary, in order to provide essential information, such as date, time and location.
Be sure to move your cars away from your home to provide space for shoppers to park.  You may want to park your car where it can be used to provide notice for your garage sale with a sign on the front and/or back windows.
Presentation
Keep in mind that many people will look as they are driving by.  Be sure to display the items to draw people in.  Take the time to organize similar items together.  If selling clothes, hang them up for a better display.  If you do not have a portable clothes rack, you could improvise by using other items that may be used to hang items, for example, a chin-up bar, a pole hung between two ladders, etc.    Tables and bookcases are great for showcasing items, but if necessary, even upside down boxes can be used as a table top.  If there is not enough table space, spread clean sheets or blankets to display items on the ground.
If you are selling an item in the original box, consider removing the contents to assure the buyer of the condition it is in.  Many people will not take the time to open the box to examine the contents.  If you are selling electrical items, have an extension cord available for buyers to test the item before buying.
Money 
It may be helpful to increase sales you have the ability to use a square credit card reader on your cell phone or tablet; if not, stick with cash only sales.  Be sure to start with plenty of change, with lots of quarters. One, five and ten dollar bills are essential to have on hand, as many buyers will not have the exact change.  Always have someone monitoring the cash box, or consider keeping the money in a fanny pack around your waist.  If you are accumulating large sums of money as the day goes on, be sure to periodically remove the larger bills from your money box and store inside your house.
Supplies
Be sure to have plenty of newspaper (for wrapping fragile items), plastic bags and cardboard boxes for buyers to carry their purchases.  Other helpful supplies to have on hand include, note pads, pens, markers, masking tape and a measuring tape.
Music
Having music playing in the background can make the time go faster, and helps create an inviting environment.  Try to select music with a wide appeal.