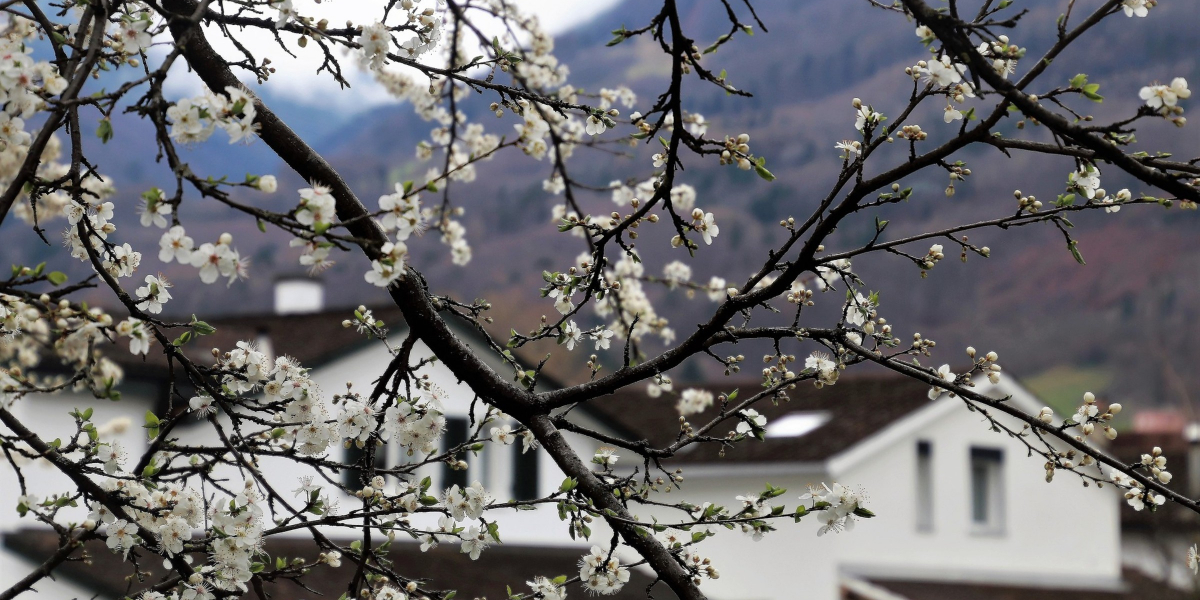 Spring has arrived and now is the time to inspect your home's exterior for necessary cleaning, repairs and replacements to maintain your home.  Winter storms, snow, and wind can be harsh and can take a toll on your home.
It is important to have your roof inspected for cracked, worn, loose or missing shingles. This can sometimes be done with photos, but it may be necessary to climb a ladder to make a personal inspection – if this can be done safely. Another option is to hire a professional. You should also inspect the flashing around your plumbing vents and chimney to see if they need to be repaired or replaced.  Check the exterior of your chimney for signs of damage, including efflorescence, a white build-up.  Efflorescence is an indication that moisture is permeating the masonry.  Removing the residue is not enough. The underlying cause of efflorescence must be addressed, to maintain the structural integrity of your chimney.   Look for vegetation growing around your chimney.  Vines hold moisture against the surface of the chimney.  Overhanging branches from nearby trees and other vegetation can be a carbon monoxide or fire hazard. This is also a great time to hire a chimney sweep to clean and inspect your chimney, in preparation for next autumn and winter.
Look over your gutters to ensure that they are intact, and the ends have not become loose or disconnected.  Clean out leaves and debris, and make sure the downspouts are draining away from the foundation of your home.  You may want to purchase downspout extensions to ensure that the water does not pool-up near the foundation.
Check your concrete sidewalks, walkways, garage floors and parking pads for signs of cracking.  After filling in the cracks with concrete crack filler, power wash the concrete and re-seal it.
If you stored firewood near your home during the winter months, now is the time to move it to a different location.  Bugs and vermin often make their home in firewood during the warmer months.  It is best to store your firewood at least a foot off of the ground and at least a couple of feet away from any structure, to discourage squirrels and mice from setting up their home.
Inspect your trees for branches which may have been damaged or broken during the winter.  Trim back branches away from the house.  Either hire a professional, or do it yourself, if you are able.
Clean your deck.  Thoroughly sweep the deck.  Use an appropriate cleanser for the type of deck (wood, vinyl, or composite).  Chose a day when it is cloudy, so the deck will be cool and the sun will not evaporate the cleaner.  Let the deck dry before resealing.
Look for low areas in your yard, especially around your foundation.  Level any low areas with compacted soil to avoid having water pool in areas next to your foundation.  Pooling water not only causes damage to your home, but also is a breeding ground for mosquitoes and other insects.
John Hamilton, Associate Broker of Windermere Real Estate, has nearly five decades of experience working with Buyers, Sellers, and other real estate professionals, and has sold more than 1,400 Utah properties.  He has the experience to provide you an edge in negotiating your real estate transaction.