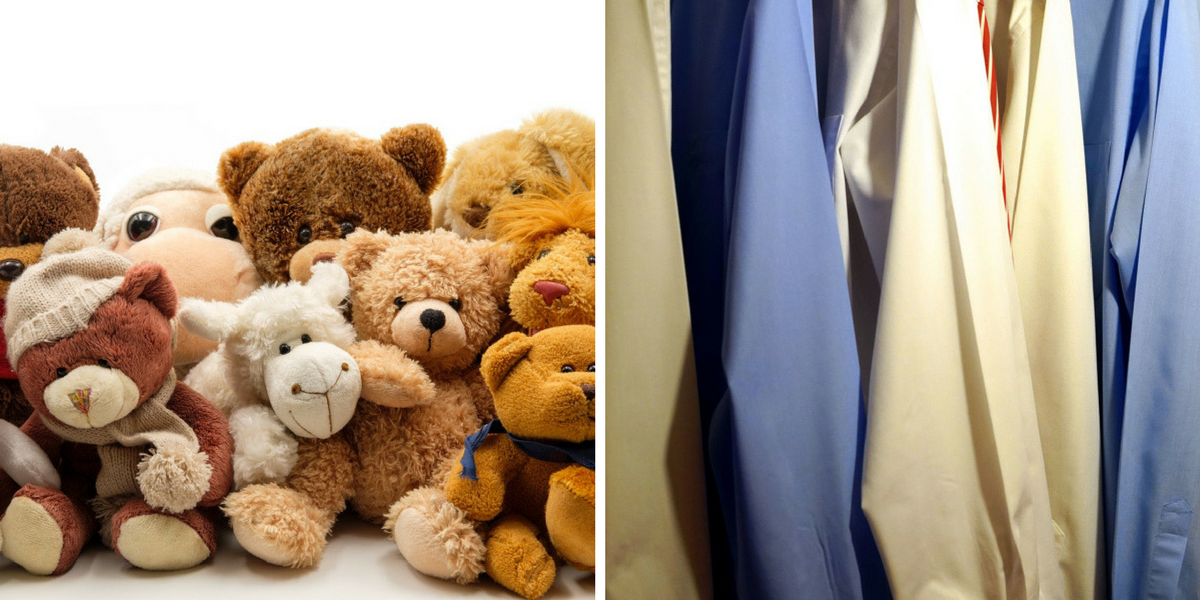 Most of us have clutter.  The gifts that we never really wanted, but can't bear to part with.  The impulse items purchased on special occasions, or on sale that we never used.  The older appliance that is stored away after being replaced with the newest model.
With the warmer temperatures of spring, it's natural to think about shedding excess; whether it is the extra weight we gained over the holidays, or the accumulation of stuff stored away in our basements, garages, or overflowing in our closets.  Do you maintain a complete wardrobe in a variety of sizes, just in case you lose or gain weight?  Are you holding on to household items that you no longer use, believing that one day you will pass them on to a loved one, when they will need it?  Have you considered renting a storage unit or buying a larger house just to store everything?  Does looking at your stuff make you feel joy or depression?
Have you thought about eliminating what you aren't using, but just don't know what to do with it?  The act of letting go of possessions can be very challenging for some.   We often cling to our possessions, "just in case" we might need it again one day.  Intuitively, we may recognize that the items aren't really trash and still have value for someone.  Clutter can be very costly, both in the space it takes up, and with the time we spend searching through it for what we need.  Rather than thinking about the giving up aspect, it may be helpful to consider what you will gain from purging it from your home.
Putting these items back into circulation can benefit you as well as your community, with many people seeking out bargains to help them to live within a tight budget.  The collection, restoration and selling of second hand merchandise also create jobs.  And your previously neglected possessions are freed from collecting dust, to renewing their life and purpose with someone else.
You could also gain some cash if you decide to sell your possessions. This could be accomplished either selling on-line, or with a yard sale.  If you happen to coordinate with friends or neighbors, you could plan a multi-family yard sale, to make it more enticing to shoppers.   If you prefer not to spend the time to sell it yourself, you may want to take your items to a second hand store.  Some stores will pay either in cash or trade for used items in good condition.
You may prefer to get a tax credit for a charity donation. In Utah, you can drop off donations at Deseret Industries  Big Brothers Big Sisters  or Friends of MS Charities.   If you are looking for options for having donations picked up from your house, you can check with Donation Town or Give It.  If you are not concerned about being paid or getting a tax write-off, you can offer to give it away for free through Freecycle, or other on-line classifies.
Wasatch Metal will pay cash by weight of ferrous and non-ferrous scrap metal, including scrap automobiles.  Watch for community events, like CHaRM pop-ups for the hard-to-recycle materials that would otherwise be sent to the landfill.
Check with Community Recycling to see the guidelines for your city for disposing of large or hazardous materials.  For example, residents of South Salt Lake can dispose mattresses at the Salt Lake County Transfer Station for free (restrictions apply).
You will feel triumphant after eliminating the things from your life that you no longer need or want, and knowing that others were able to find use from it.  Once you have shed the old clutter, be careful not to replace it with new clutter.  This is an excellent time to consider how you make future purchases.  For special occasions, you may want to focus more on sharing experiences rather than exchanging gifts.  You may decide to rent or borrow rather than purchasing items for occasional use.
John Hamilton, Associate Broker of Windermere Real Estate, with nearly five decades of experience working with Buyers, Sellers, and other real estate professionals and having sold more than 1,400 Utah properties.  I have the experience to provide you an edge in negotiating your real estate transaction.