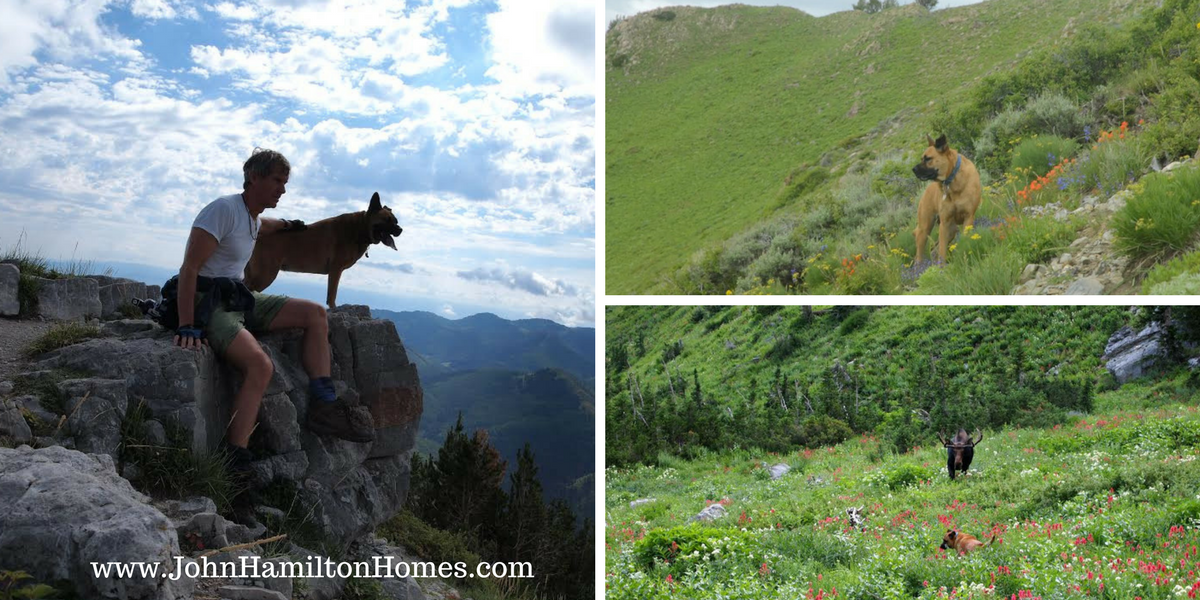 The Salt Lake area is a great place to live or visit if you enjoy access to a variety of urban activities, but it also offers easy access to some wonderful hikes, if you want to get away from the fast-paced city life, grab your hiking shoes from the closet and take a break to rejuvenate yourself and de-stress by getting out in nature as well as benefit from a bit of exercise. Even a 10-minute walk in some of the city parks can be helpful, but if you're more ambitious and have more time, here are some of my favorite Millcreek area hikes
Grandeur Peak – This is a moderate hike – a 8,299 foot summit, that is dog friendly, and can take from about 3 to 4 hours. You can start from either the Church Fork trailhead in Millcreek Canyon, or take the more direct (steeper) route from the west. If you go up Millcreek Canyon, they charge a $3.00 fee when you leave the canyon, to help maintain the canyon's facilities. The western route is great if you're time is limited. You can take your dog with you, but they recently are asking for dogs to be leashed from the west. In Millcreek Canyon, dogs can be off leash on odd-numbered days and since you're starting at a higher altitude, the hike is easier and not quite as steep. Grandeur is one of my favorites when I am looking for a quick getaway.  https://utah.com/hiking/grandeur-peak
Mount Olympus – is an easily accessed dog-friendly trail from Wasatch Boulevard that offers some spectacular views of the Great Salt Lake and the Salt Lake area. This hike would be a step above the Grandeur hike, the summit is 9,030 feet, and although there's a moderate trail for the first third of the way, the trail does get somewhat steeper after crossing the creek. When you reach the point where the trail goes through the forested area just above the switchbacks, you are on your way to the upper ridge. From the upper ridge, you follow the trail north to some rock scrambling along the trail to the peak. There are some sections that you may have to help your dog get up the rocks.  https://www.alltrails.com/trail/us/utah/mount-olympus-trail
Pipeline Trail – if you're looking for a relatively easy flat hike that is accessed in Millcreek Canyon. It is a popular hike for runners, bikers, and dog walkers and offers some nice views. Bikes are allowed on the trail every day but on the upper Millcreek trails they are only allowed on even-numbered days. Dogs can be off-leash on odd numbered days. The trail can be accessed from several trailheads – I usually start from just above and across from the Porter Fork trail. If you are ambitious enough to hike all the way (about 6 miles) to the western end there are some nice views of the Salt Lake valley.  https://www.trailrunproject.com/trail/7002438/pipeline-trail-burch-hollow-millcreek-canyon.
Salt Lake Overlook Trail – Is about a 4½ mile out and back easy to moderate Millcreek Canyon trail that is shaded for most of the hike and is also a dog-friendly trail. You will begin the hike at the trailhead next to the Mill Creek Inn and you will be taking the Desolation Trail. There are some nice views when you get to the rock outcroppings at the end of the hike. You won't see as many people on this trail as on the Pipeline Trail.  https://www.alltrails.com/trail/us/utah/desolation-trail-to-salt-lake-overlook
Mount Aire – this moderate hike is a little over 3½ miles out and back from the Elbow Fork trailhead in Millcreek Canyon. However, in the winter, the road is closed at the Maple Grove picnic area and the hike would be about 7 miles out and back. From the peak at 8,621 feet, you can enjoy some great views of Millcreek Canyon, as well as Parleys Canyon and the Salt Lake Valley. This would also be a great snowshoe hike in the winter that is safe from avalanches.
Dog Lake & Desolation Lake – A 5 mile out and back trail to Dog Lake is accessed from the upper parking area at the end of the Millcreek Canyon road. Dogs are allowed on the trail on odd days and bikes are allowed on even days to Dog Lake, but if you go all the way to Lake Desolation, dogs are not allowed. The trail is heavily used in the summer months, but is really peaceful in the winter for cross country skiing. However, in the winter, it is much longer because the Mill Creek road is closed at Maple Grove. The lakes can also be accessed from about 9 miles up Big Cottonwood Canyon at the Mill D North Fork trail.  https://www.alltrails.com/trail/us/utah/dog-lake-trail
Alexander Basin & Gobblers Knob – Gobblers Knob, at 10,246 feet, is the highest summit on the ridge dividing Big Cottonwood Canyon and Millcreek Canyon. It can be accessed from either canyon, but I usually go by way of the Alexander Basin trail, where the trailhead is about 8½ miles up Millcreek Canyon road. Again, the road is closed in the winter so it's easiest accessed in the summer months. It is another moderate hike to Alexander Basis where there are some great wildflowers, and a resident moose that likes to hang around the area. If you like great views of the Wasatch Mountains, go up from the basin to Gobblers Knob and from there you can hike west along the ridge to Mt. Raymond.  https://www.summitpost.org/gobblers-knob/152266