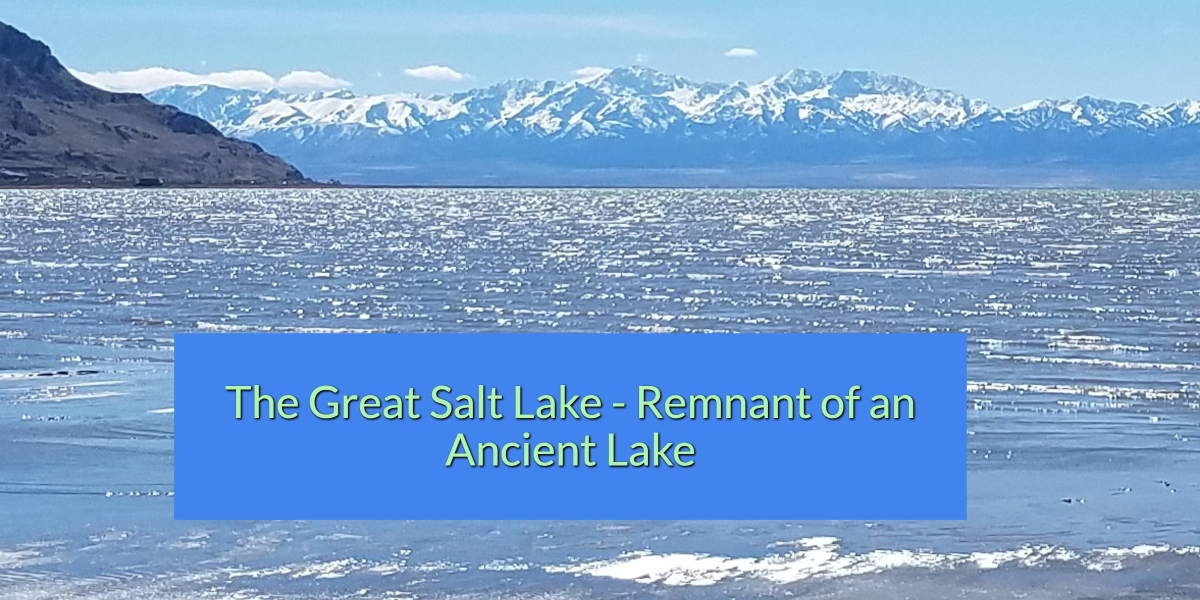 The Great Salt Lake continues to be a popular destination among tourists. The Great Salt Lake is what remains from the prehistoric freshwater lake, Lake Bonneville.  Between 10,000 to 30,000 years ago, Lake Bonneville covered 20,000 square miles of land in the area of what is known today as Utah, Nevada and Idaho.  The lake was left without an outlet due to the fall in the water table, and its size shrunk due to evaporation.  The Great Salt Lake is roughly 75 miles long and 35 miles wide.  The deepest part of the lake is less than 50 feet.  It is the largest inland lake west of the Mississippi.
The lake environment ranges from very salty (up to 28%) in the north arm, to the least salty (approximately 5%) at Farmington Bay, creating habitats to support a wide range of plants, animals and birds. With 10,000 miles of shorelines and 400,000 acres of wetlands it is a sanctuary for millions of birds each year for feeding, breeding and resting.
Antelope Island State Park
Antelope Island is 41 miles north of Salt Lake City, take exit 332 off of Interstate 15.  Drive west on Antelope Drive.  The island is accessible by automobile by driving on a 7.5 mile causeway. At 42 square miles, Antelope Island is the largest of ten islands located within the Great Salt Lake.  There is plenty to do while visiting including hiking, biking, horseback riding, camping, bird watching, touring the historic ranch house, swimming, and boating.  Leashed dogs are permitted only in specific areas.  Be respectful of the wildlife which freely roams on the island, including Bison, antelope, deer, elk and coyotes.  Be sure to give them plenty of space.  Bison are able to run up to 40 miles per hour.
Antelope Island State Park has been officially designated as an International Dark Sky Park which makes it a perfect place for stargazing.
Follow the Antelope Island Facebook page to stay up to date on special events, such as Antelope by moonlight (a non-competitive bike ride), spider fest, ghost tour and more.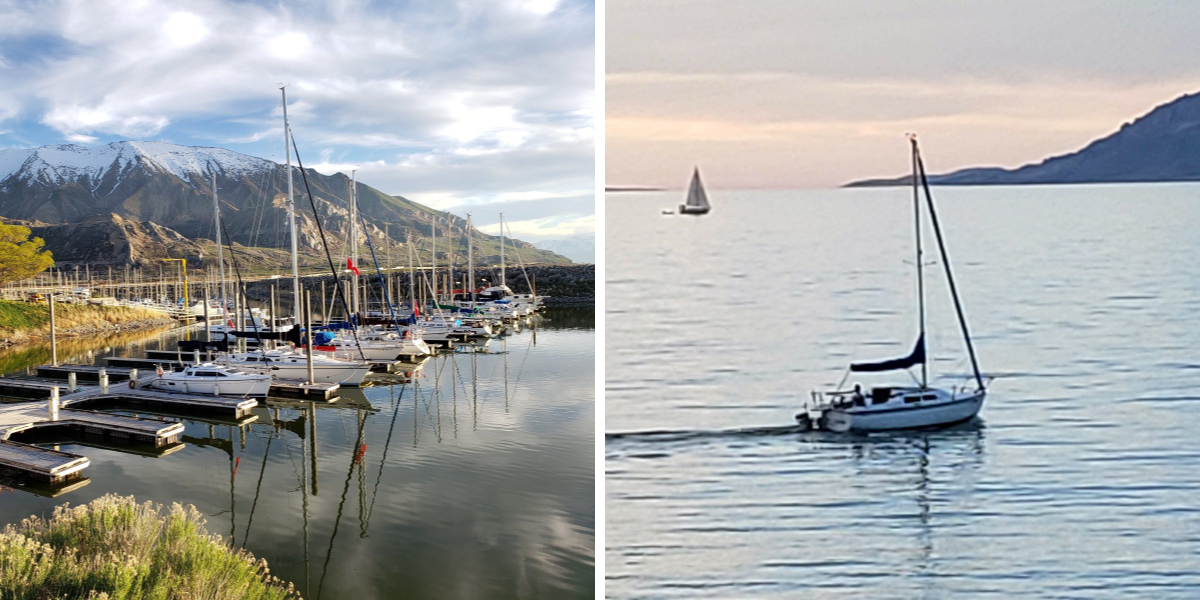 The Great Salt Lake State Park at 13312 West 1075 South in Magna offers a marina and boat launching facilities for motorized and sail boats, year-round campground, and is great location for bird watching.  Be sure to watch for special events, such as the Full Moon Walks on Silver Sands Beach.  A park ranger will share stories about the lake while walking on the beach under the light of the full moon.
Directions:  It is approximately 30 miles from Salt Lake City.  Take exit 104 off of I-80 and turn left at Saltair.  Continue driving west, following the signs to the State Park.
Saltair
Despite having suffered many setbacks over the years, Saltair has continued to rise up and adapt.  Since 2005, Saltair has been a music venue with a capacity of 4600, attracting popular musical acts from all over the world.  When Saltair was originally completed in 1893, it was one of the first amusement parks in America and was considered to be the Coney Island of the West.  Visitors also enjoyed swimming and dancing at the venue. Saltair was damaged by fire in 1925.  It was later rebuilt as the largest dance floor in the world, just as the Big Band era was spreading across the United States.  In 1931, another fire broke out causing sufficient damage to close down the dance floor.  A third fire started by arson during the 70's completely destroyed the building.  In 1981, Saltair III was built approximately one mile west of the original site. Unfortunately, within months of completion, the resort was flooded due to the rising water level of the Great Salt Lake and remained flooded for several years. Currently, the water level has receded far away from Saltair.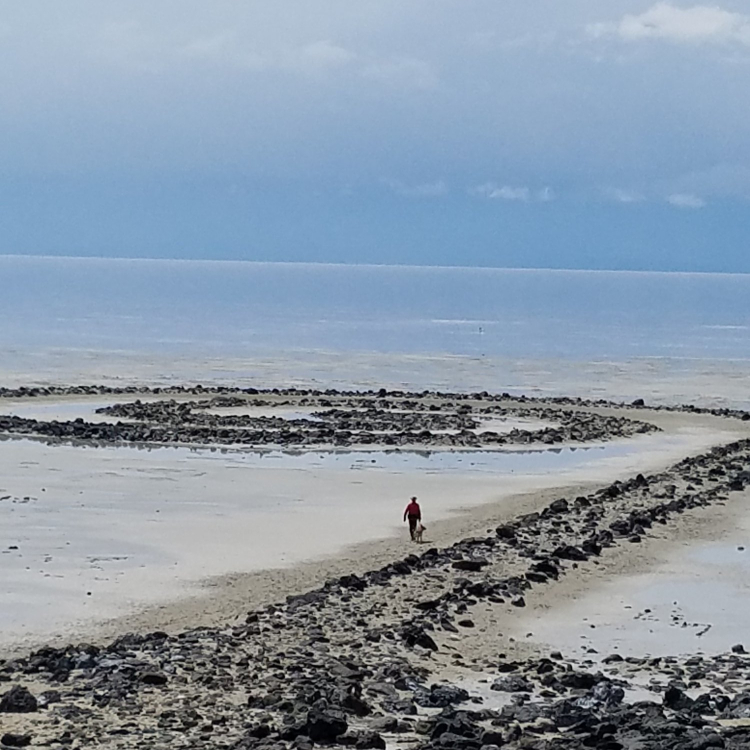 Spiral Jetty
The Spiral Jetty is an earthwork sculpture created by Robert Smithson in 1970. It is located on the northeastern shore of the Great Salt Lake.  Using mud, salt crystals and over six thousand tons of black basalt rocks, Smithson formed a counterclockwise coil that is 1,500 feet long and 15 feet wide.  Depending on the level of the lake, it may be fully or partially submerged under water, or as it is at the present time, due to drought, is fully exposed.  At certain times, the Great Salt Lake will have Pink Water due to the presence of microbes. Check this link for the directions. Be sure to have plenty of gas in your vehicle.  Bring plenty of water, and snacks to eat as there are no services available.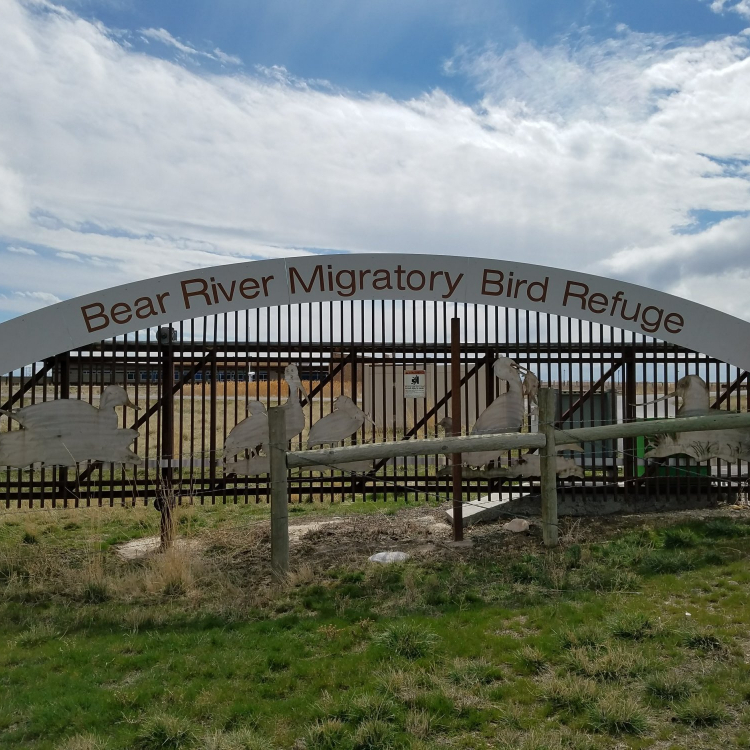 The Bear River Migratory Bird Refuge  is approximately 62 miles north of Salt Lake City, at 2155 W. Forest Street in Brigham City. Take exit 363 on I-15, turn left and follow the signs. The Bear River Migratory Bird Refuge was created by Congress in 1928 to protect the marshes where the Bear River flows into the northeast arm of the Great Salt Lake.  It is the largest freshwater component of the Great Salt Lake ecosystem and serves as the feeding and breeding grounds of migratory waterfowl. With nearly 80,000 acres of marsh, open water, mudflats and uplands, the refuge provides suitable migratory habitat for over 200 bird species, and 67 species nesting there.
Be sure to stop by the James V. Hansen Wildlife Education Center for interactive exhibits, short films and half-mile walking trail.  There is a 12 mile auto route through the Refuge.  It is a one-way route on an unpaved road.  Once you begin the route, you will not be able to turn back or to exit before completing the tour.  Be aware during inclement weather that the road may be closed off. Be sure to bring your binoculars and camera.
Beware of biting gnats!  If you are visiting the Great Salt Lake during the spring, you may encounter biting gnats.  Although they are tiny, they can create a lot of discomfort.  Gnats are most active at dawn and at dusk.  They are attracted to perfumes and scented soaps/shampoo etc.  Avoid wearing scents while they are active.   It is recommended to wear a fine-mesh head net to avoid being bitten.
Keep up with news about the Great Salt Lake at the Friends of the Great Salt Lake. 
Additional Posts about Birds
Posted on October 30, 2019 at 8:16 pm
John Hamilton
Category:

Outdoor Living, Places to visit
Tagged

antelope, Antelope Island, Antelope Island State Park, Bear River Migratory Bird Refuge, birds, bison, Great Salt Lake, International Dark Sky Park, Saltair, Spiral Jetty, The Great Salt Lake State Park
Smokey skies from the wildfires did not discourage the volunteers who came out to clean up Antelope Island State Park on a very hot, windy day.  A second group of volunteers met at the Great Salt Lake Marina State Park as part of the International Coastal Clean-Up Day.
For thirty-three years, the Ocean Conservancy has been organizing volunteers to clean up litter along their coastline.  Volunteers throughout the U.S. and more than 100 countries join efforts to clean up beaches, waterways and oceans.  In 2017, over 20 million pounds of trash (majority of it plastic) was picked up during the International Coastal Clean-Up Day.
 Friends of Great Salt Lake organized Utah volunteers at two locations along the Great Salt Lake. Five million migrating birds representing 257 species will stop at the Great Salt Lake every year.  Migratory birds are not only aesthetically beneficial to humans but have a vital role in the biodiversity for all ecosystems.  They help pollinate, disperse seeds and regulate pests.
The effects from littering can have detrimental affects on birds. Discarded and rotting food can attract predators. Rats and feral cats attracted by food waste may also prey on the birds and/or their nests.   Litter may lead to habitat loss, with fewer resources for nesting, feeding and shelter.  Glass, plastic, fishing line and kite string can cause injuries to birds' wings, legs, feet, or throats if entangled in them.  Birds may mistake pieces of litter as food, and can suffer from digestive blockage or poisoning.  Also, oil or grease could cause plumage disruption which would affect their ability to maintain proper insulation and easy flight.
Some people may believe that cleaning up the litter is an endless battle and that their effort really wouldn't make a difference.  However, just as every piece of litter that is carelessly discarded matters, the same goes for every piece of litter that is eliminated.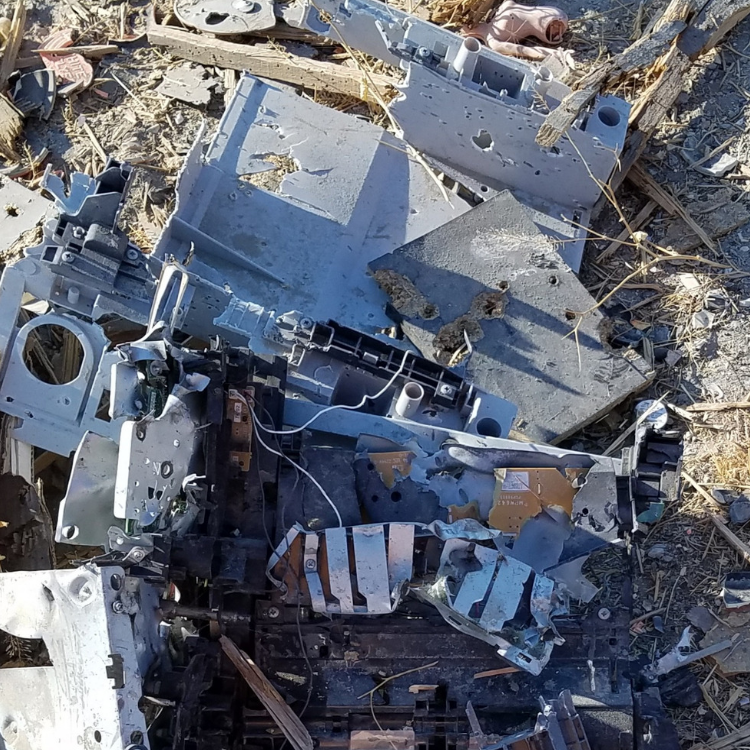 The Antelope Island clean-up focused on an area where shooters have been using discarded toys and electronic devices for target practice. Most electronics contain toxic materials including lead, nickel, zinc, and chromium.  When released into the environment it can cause health problems to humans.  Toxic materials can also seep into the groundwater affecting animals on land and in water.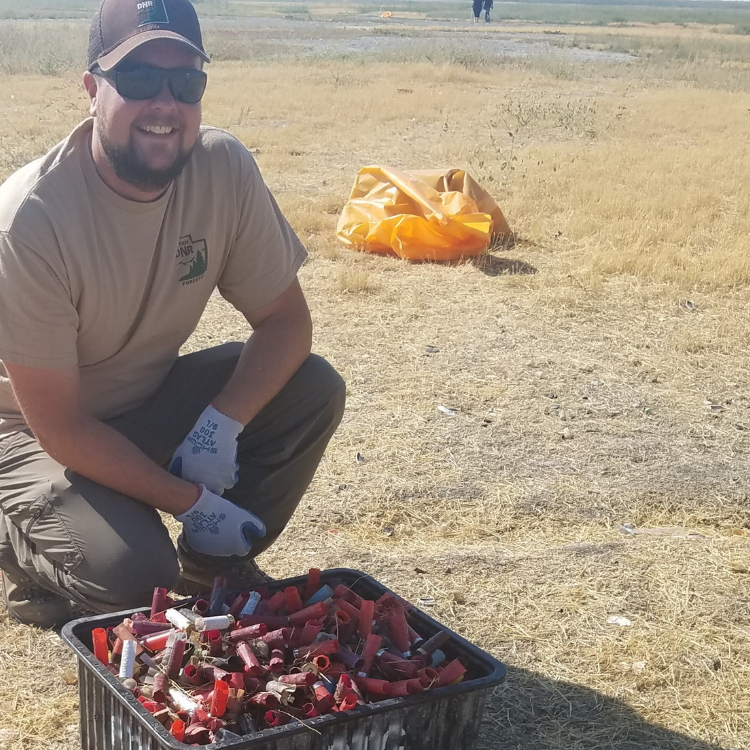 The use of ammunition containing lead is discouraged.  Accumulation of lead from ammunition on the lakebed will have a health impact on waterfowl.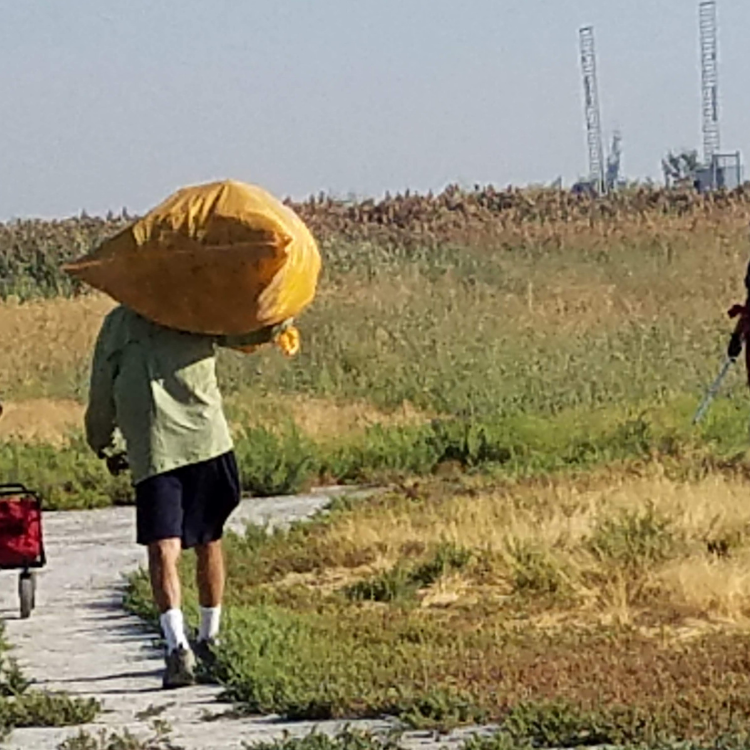 Collected litter was weighed. Metal and toxic debris were separated from the paper, cardboard, plastic bottles and aluminum cans for proper disposal.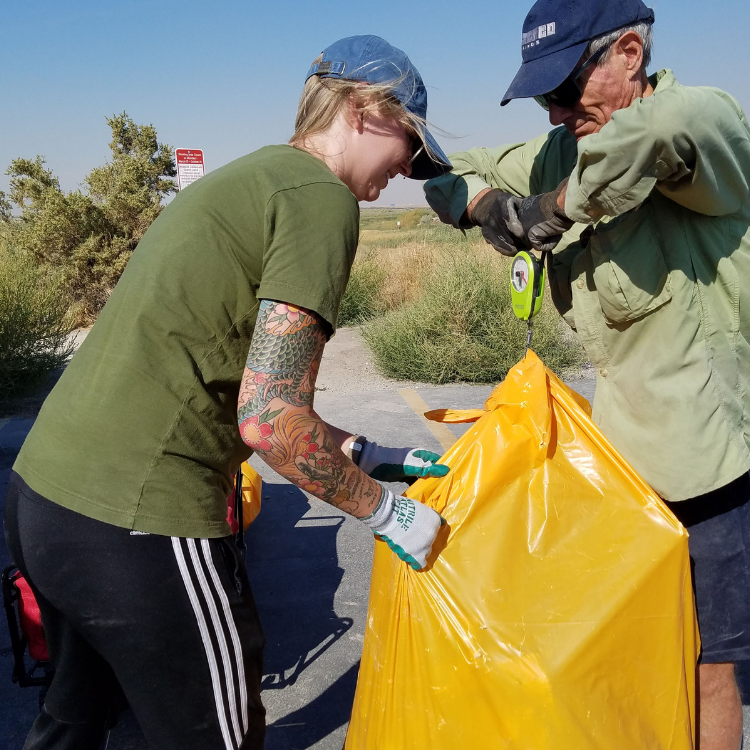 Within two hours, the combine efforts of hardworking volunteers were able to clear out 1000 pounds of litter.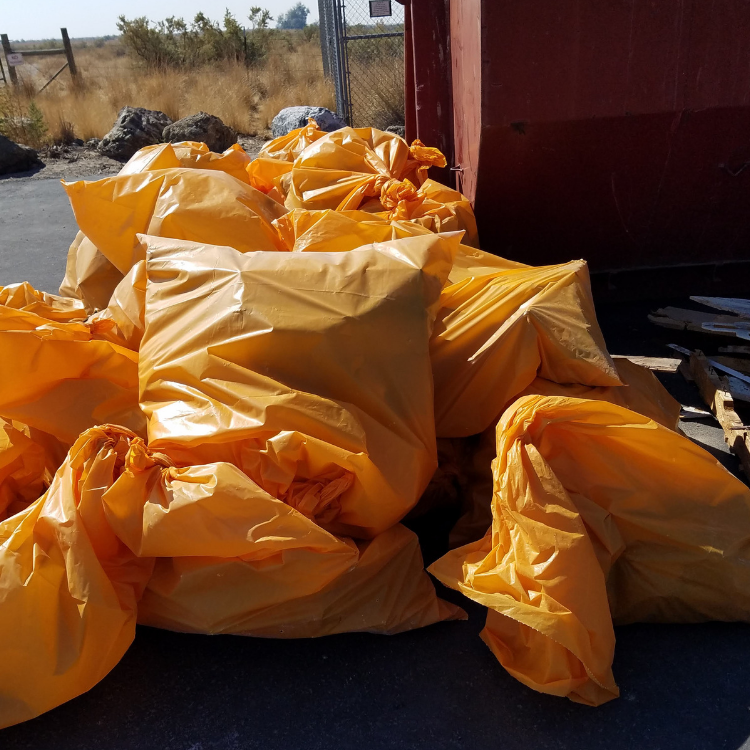 "You are not a drop in the ocean.  You are an entire ocean in a drop." – Rumi
Additional Information:
Great Salt Lake State Park – Marina