The Historic Union Pacific Rail Trail offers 27.7 miles of recreational fun for mountain biking, hiking, horseback riding, wildlife viewing and cross-country skiing. The majority of the trail is gravel.  There is a 3 mile section in Park City, and a half mile section in Wanship that is paved asphalt.
Over 100 years ago, the Echo-Park City Railway transported coal and silver ore.  In 1989, the Union Pacific abandoned the railroad line.  The railroad line was transformed into the first non-motorized rail trail in Utah.  The Historic Union Pacific Rail Trail State Park  was opened to the public in 1992.
The trail begins at an approximate elevation of 6,900 feet in Park City and gradually descends to 5,280 feet.  If you are biking, be sure to bring an extra tube and a tire repair kit with you. Having a fully charged cell phone is not just for photos but also is important in case of emergencies.  Be sure to use sunscreen and wear clothing to protect you from the sun, and bring plenty of water with you.  There are several vault toilets along the trail.
Portions of the trail are adjacent to private property and you will encounter gates to open and shut to keep animals contained.  Be sure to remain on the trail and be respectful of their property.
The landscape transitions from volcanic canyon to wetlands and farms. Some of the wildlife you may encounter includes, fox, bald eagles, moose, deer, rabbits, and beavers.  You may want to bring binoculars with you.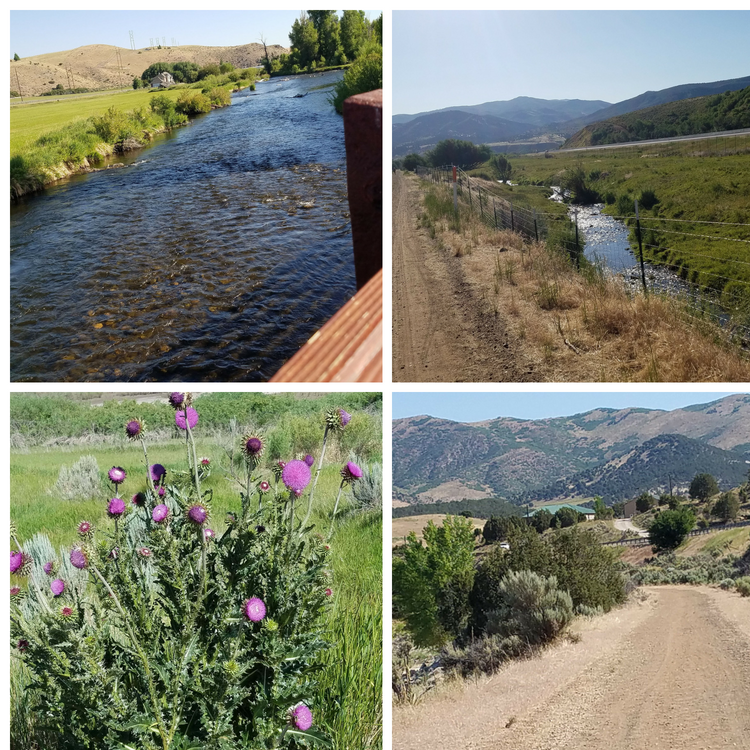 Echo Reservoir has recreational boating and fishing and is the perfect place to rest for a picnic and swim before making your return trip back to Park City.  If making the roundtrip loop is more than you would like to do, an alternative would be to have someone drop off the trail users and to meet them at Echo Reservoir.    See the map for entry points to the trail for additional options.